About Us
Kingfisher Fish & Chips is a Fish & Chips takeaway in Southend on Sea. Why don't you try our Chicken Burger Meal or Chips?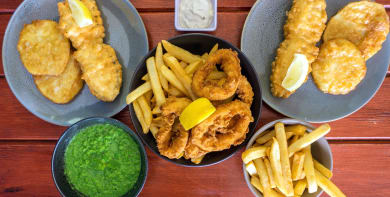 Reviews
414 reviews
Jane
"Delivered ten minutes early. Fish not quite as good as normal, but still good."
07/07/2020
susan
"Best fish and chips we've had in ages!"
03/07/2020
Becky
"The fish was too oily and and one side was soggy also the scampi was full of oil but great chips"
02/07/2020
Andy
"Lovely food as always"
26/06/2020
Menu
King Fisher Special Burger
With bacon salad
£4.80
Quarter Pounder Burger Regular
£3.50
Quarter Pounder Burger With Cheese
£3.80
Half Pounder Burger Regular
£4.50
Half Pounder Burger With Cheese
£4.80
Fruit Shoot Bottle Orange
£1.30
Fruit Shoot Bottle Strawberry
£1.30
Fruit Shoot Bottle Blackcurrant
£1.30
Chicken Nuggets 04 Pieces
£2.50
Chicken Nuggets 06 Pieces
£3.50
Chicken Nuggets 10 Pieces
£4.90
Meal Deal Regular
Small sausage plain OR battered,
Small chips with either peas, gravy, curry OR beans
£3.60
Meal Deal Large
Small sausage plain OR battered,
Small chips with either peas, gravy, curry OR beans
£4.60
4 Chicken Nuggets, Small Chips & Can
£4.90
4 Cod Bites, Small Chips & Can
£4.90
Leg of Chicken, Small Chips & Can
£5.90
Cheeseburger, Small Chips & Can
£4.90
Chicken Burger, Small Chips & Can
£4.90
Half Rack of Ribs, Small Chips & Can
£5.90
Ben & Jerry's Chocolate Fudge Brownie 500ml
Ice cream with fudge brownies- the fabulously fudgy brownies in this flavour come from New York's Greyston Bakery
£5.49
Ben & Jerry's Chocolate Fudge Brownie 100ml
Ice cream with fudge brownies- the fabulously fudgy brownies in this flavour come from New York's Greyston Bakery
£2.50
Ben & Jerry's Cookie Dough 500ml
Vanilla ice cream with chunks of chocolate chip cookie dough
£5.49
Ben & Jerry's Cookie Dough 100ml
Vanilla ice cream with chunks of chocolate chip cookie dough
£2.50
Ben & Jerry's Moo-Phoria Salted Caramel Brownie - 500ml
Caramel ice cream with brownie pieces & a salted caramel swirl
£5.49
Ben & Jerry's Phish Food - 500ml
Chocolate ice cream with marshmallow, caramel & chocolatey shaped fish
£5.49
Ben & Jerry's Moo-Phoria Chocolate Cookie Dough - 500ml
Chocolate ice cream with chunks of chocolate chip cookie dough
£5.49
Ben & Jerry's Cookie Dough Wich - 100ml
Vanilla ice cream with cookie dough sandwiched between chewy chocolate chip cookies
£2.50
Contact Us
Find Us
5 Queens Road, Southend on Sea, SS11LT
We deliver to
SS0, SS1, SS2, SS3, SS4