About Us
Kingfisher Fish & Chips is a Fish & Chips takeaway in Southend on Sea. Why don't you try our Chicken Burger Meal or Chips?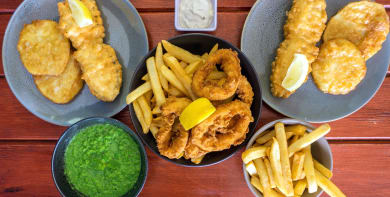 Reviews
396 reviews
Katie
"Lovely food"
09/09/2020
David
"Always get great fish & chips, consistent top quality"
05/09/2020
Karen
"I was advised about lateness via app , due to volume of orders, so understandable and as I was advised I was ok about it"
02/09/2020
Menu
King Fisher Special Burger
With bacon salad
£4.80
Quarter Pounder Burger Regular
£3.50
Quarter Pounder Burger With Cheese
£3.80
Half Pounder Burger Regular
£4.50
Half Pounder Burger With Cheese
£4.80
Fruit Shoot Bottle Orange
£1.30
Fruit Shoot Bottle Strawberry
£1.30
Fruit Shoot Bottle Blackcurrant
£1.30
Chicken Nuggets 04 Pieces
£2.50
Chicken Nuggets 06 Pieces
£3.50
Chicken Nuggets 10 Pieces
£4.90
Meal Deal Regular
Small sausage plain OR battered,
Small chips with either peas, gravy, curry OR beans
£3.60
Meal Deal Large
Small sausage plain OR battered,
Small chips with either peas, gravy, curry OR beans
£4.60
4 Chicken Nuggets, Small Chips & Can
£4.90
4 Cod Bites, Small Chips & Can
£4.90
Leg of Chicken, Small Chips & Can
£5.90
Cheeseburger, Small Chips & Can
£4.90
Chicken Burger, Small Chips & Can
£4.90
Half Rack of Ribs, Small Chips & Can
£5.90
Ben & Jerry's Chocolate Fudge Brownie 500ml
Ice cream with fudge brownies- the fabulously fudgy brownies in this flavour come from New York's Greyston Bakery
£5.49
Ben & Jerry's Chocolate Fudge Brownie 100ml
Ice cream with fudge brownies- the fabulously fudgy brownies in this flavour come from New York's Greyston Bakery
£2.50
Ben & Jerry's Cookie Dough 500ml
Vanilla ice cream with chunks of chocolate chip cookie dough
£5.49
Ben & Jerry's Cookie Dough 100ml
Vanilla ice cream with chunks of chocolate chip cookie dough
£2.50
Ben & Jerry's Moo-Phoria Salted Caramel Brownie - 500ml
Caramel ice cream with brownie pieces & a salted caramel swirl
£5.49
Ben & Jerry's Phish Food - 500ml
Chocolate ice cream with marshmallow, caramel & chocolatey shaped fish
£5.49
Ben & Jerry's Moo-Phoria Chocolate Cookie Dough - 500ml
Chocolate ice cream with chunks of chocolate chip cookie dough
£5.49
Ben & Jerry's Cookie Dough Wich - 100ml
Vanilla ice cream with cookie dough sandwiched between chewy chocolate chip cookies
£2.50
Contact Us
Find Us
5 Queens Road, Southend on Sea, SS11LT
We deliver to
SS0, SS1, SS2, SS3, SS4